ALL ABOUT PATIO
DOOR REPLACEMENT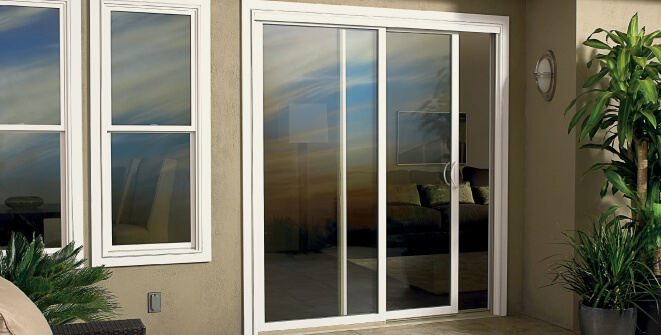 Patio doors are one of the most important, yet understated, features of any home. If you are looking for ways to improve access to your backyard or balcony or if you want to allow for more natural light within your home, patio door replacement maybe the answer you're looking for. They can open up a closed space and create beautiful views that help you feel more connected to nature.
Since patio doors play so many different roles within the home, their condition can be critical to any home's overall performance. Considering today's patio doors are more secure, more weather-resistant, and have more energy efficiency than ever, it's important to have the info you need for your next patio door replacement and door replacement project!
Like other utilities, we recommend checking up on your patio doors every few months and assessing them for damage. Occasionally, you may even need to replace them. With so many choices when it comes to patio door styles and materials, we made this guide to help you make the right decision for your home.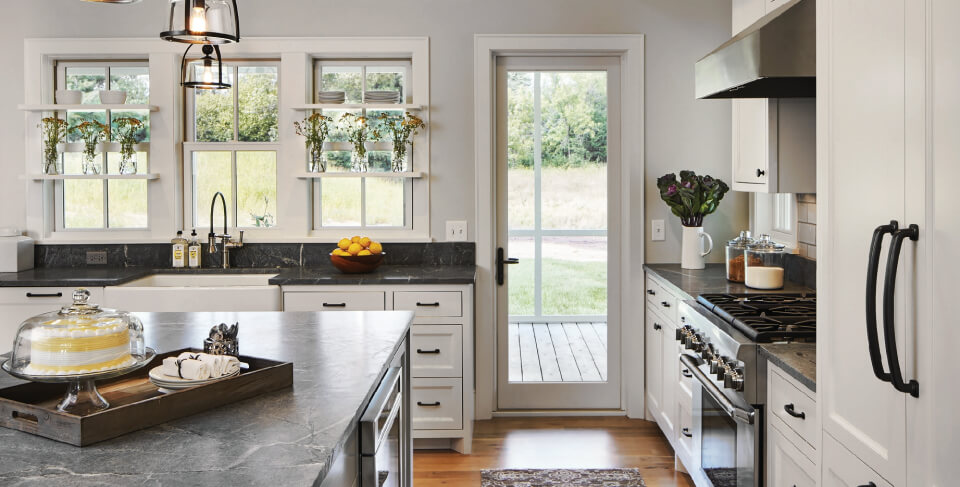 WHEN TO REPLACE?
While the need for a patio door replacement may not always be obvious, if ignored, it can be seriously detrimental to the overall performance of a home.
There are a number of ways to judge when it is time to replace a patio door. So, if you notice any of the warning signs below, it may be time to shop for a door replacement.
1. THEY ARE DIFFICULT TO OPERATE
Trouble opening or closing a patio door is one of the most obvious signals that it may be time for a replacement. If you're experiencing such trouble, especially with a sliding patio door, it's possible that the door has become misaligned from the track.
Not only is this problem tedious for homeowners, but it's a major safety hazard in case of a fire or other emergency. So be sure to look into a solution.
2. THEY ARE NOT ENERGY EFFICIENT
Historically, patio doors were notorious for air leakage. Though recent changes in manufacturing have led to vast improvements, you should still be aware and constantly assess doors for drafts.
If the areas surrounding your patio doors feel cooler than the rest of your house, it's possible that your doors have drafts. Not only are these uncomfortable for members of the household, but fixing these can be expensive, wasting costly energy while spiking up cooling and heating bills year-round.
According to energy.gov, windows contribute to about 30% of a typical home's heating losses. So regardless of their age, you can improve your home's comfort and lower your energy bills by sealing air leaks or repairing your windows.
3. THEY LOOK DAMAGED
Even high quality patio doors will naturally deteriorate over time, since they're constantly being exposed to various elements – from frigid temperatures to powerful, UV rays. In the most extreme cases, you may even notice gaps developing between the door and its frame.
If you notice gaps, rot, mold or other signs of warping, it's time to consider replacement.
4. YOU ARE PREPARING TO SELL
Another common reason to replace patio doors is to boost the overall look of your home. Whether you are simply remodeling pleasure or are looking to sell your home in the near future, a new sliding glass door or a pair of French doors can add significant curb appeal to your home.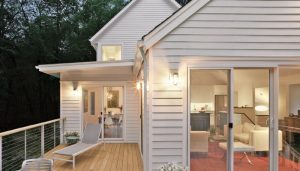 WHAT TO CONSIDER WHEN SHOPPING FOR PATIO DOORS?
Once you determine whether or not your home is ready for new patio doors, there are additional factors to consider.
There are two primary types of replacement patio doors: French doors and sliding patio doors. So, when you set out to select replacement patio doors for your home, the main question you will have to answer is which of these types is right for you.
Here, we walk you through the definitive traits of each door styles to help you make an appropriate decision.
FRENCH DOORS
French patio doors (also known as hinged doors) are, as the nickname suggests, attached by hinges and able to swing in or out. These doors typically consist of one or more glass door panels and are best known for their classic, elegant sightlines
French doors are ideal in areas prone to high winds, since the harder the wind blows against them, the tighter the seal they make when pressed against the jamb.
SLIDING PATIO DOORS
On the other hand, sliding patio doors (also known as gliding doors or sliding glass doors) require less space and offer straight, simple lines that offer a more contemporary look.
These doors maximize natural light and outdoor views to create a deeper connection to nature. They also facilitate greater ventilation through the room, since they do not require extra space for the door to swing in or out.
WHICH REPLACEMENT PATIO DOORS ARE RIGHT FOR ME?
Of course, there is no definitive answer as to which style is best: The right replacement patio door for any home depends on the space available and the amount of ventilation desired.
So now that you know the differences between French doors and sliding glass patio doors, try to identify your priorities.
Think about the climate you live in year-round, your budget and your long-term goals. Only then can you make the most appropriate decision!
At Big L, we proudly stock a full selection of replacement patio doors in a variety of shapes, styles and materials. Ready to get started? We are here to help!