KINDNESS & PROFESSIONALISM ARE OUR PLEDGE
WE LOOK FORWARD TO MEETING YOU
In our relationships with people both inside and outside the company, Big L Windows & Doors staff members strive for warmth, kindness,
professionalism and optimism. We can't wait to work with you!
Lauren Brignon

LBRIGNON@BIGLWINDOWS.COM
716-362-2448

Lauren joined the Big L team in 2013 and spent 7 years in a demanding customer service department focusing on scheduling and order processing. She eagerly transitioned into sales after developing an extensive knowledge of customer relations and product components. When away from the office, Lauren loves spending all her extra time with her 2 daughters.

Ron Brewster

RONB@BIGLWINDOWS.COM
716-895-8484

Ron joins the Big L team having been in the commercial fenestration business for over 18 years, during which time he has specialized in historical renovations requiring SHPO and NPS approvals.  A three-time award-winning sales consultant, his knowledge and expertise have helped many architects, general contractors and building owners navigate their way through this challenging process.  Born and raised in the Syracuse area,  Ron relocated to the Buffalo area to attend Buffalo State College where he earned a Bachelor of Arts Degree in Public Relations.   Ron, his wife Kristin, and their two sons, Ben and Owen reside in the Village of Hamburg.

Jim Bull

jbull@biglwindows.com
716-895-8484 ext. 319

Jim comes to the Big L team with over 30 years' experience in the building products industry. Working mostly in the commercial arena, he has worked with architects, general contractors and residential builders turning dreams and designs into reality. He has earned numerous national or local awards in customer service. Being a naval dependent, he has traveled the United States and Europe attending the University of Maryland Munich, Germany and completing his studies at the University of Buffalo. When not at work, Jim enjoys the outdoors and spending time with his wife and two children.

Travis Connors

TCONNORS@BIGLWINDOWS.COM
716-362-2467

Travis joined the Big L team as an installer, providing him with great perspective in his current role where he inspects and assesses the windows our customers homes. When working with Travis, homeowners can expect a professional guide through the latest design concepts, expert product knowledge, as well as a collaborative experience to help them achieve the look and feel they desire. With nearly twenty years in the window and door industry, Travis understands that customer satisfaction is accomplished not by doing what is easy or expected, but by focusing on the details that make your house a home.

Fritz Cornell

fcornell@biglwindows.com
716-362-2462

Fritz has been a part of the window industry for over 30 years, as an installer, union glazer and sales consultant. With experience from all aspects of the window and door industry, Fritz will help guide you through the process of choosing, designing, and finalizing your project. Fritz is an avid water sports enthusiast, enjoying boating, diving, and fishing during our beautiful Buffalo summers.

Justin Cornell

JCORNELL@BIGLWINDOWS.COM
716-362-2470

Justin started working with Big L in the summer of 2010 after graduating high school at Kenmore east and became a full time employee in 2013 after receiving his degree from ECC. He worked in the install and service departments as an assistant tech before accepting a position in the warehouse. He moved back to the service department as a coordinator and now works as an inside sales rep. Justin is an avid buffalo sports fan after playing football semi professionally for 4 years.

Bill Horbett Jr.

bhorbettjr@biglwindows.com
716-895-8484 ext 314

CEO and Owner of Big L Windows and Doors.  Bill has worked in many positions at Big L as he grew up in the family business. After University, Bill taught English in Japan and ended up meeting his future wife there.  Bill and his wife have three children who keep them very busy.  Bill loves to discover and listen to music and has recently taken up electric bass guitar lessons.
Al Hynes

al@biglwindows.com
716-895-8484

Al worked for Big L as an installer previously and now has returned to the team after having his own window and door business. Al has years of valuable installation and sales experience in the window and door industry. He is also a City of Buffalo fire fighter and enjoys spending his free time with his wife and three children.

Xander Iliohan

xander@biglwindows.com
716-997-1441

Xander is a replacement specialist for the Big L Team. He has over 15 years' experience in the replacement window and doors segment of our business. The primary focus of his has been residential replacement project sales, working with customers from their first consultation through making their visions a reality. His experience combined with his undergraduate studies in Architecture and Design gives him a great set of tools to help with your window & door replacement projects. When he is not on the job, Xander enjoys spending his time with his wife and two children.

John Ladowski

JOHNL@BIGLWINDOWS.COM
716-362-2449

John's window experience started early at the age of 14 as a helper to one of the best crews at the time in WNY installing storm windows, storm doors, awnings and enclosers. He also installed one of the very first vinyl replacement windows in Western New York.  John is approaching the 35-year mark with Big L and has expert knowledge of the Marvin family of products along with our current product roster which enables him to find the right fit for any size window or door project, whether its new construction or remodeling. John is the proud grandfather of 11 beautiful grandchildren.

Chris Mosgeller

CHRISM@BIGLWINDOWS.COM
716-895-8484 EXT. 337

Chris has been in the window and door industry for over 15 years. During which time he specialized in residential replacement sales and has since taken on the position of sales team leader. A two-time national award-winning sales consultant, his knowledge and expertise are second to none in helping his customers identify the right products and the proper installation to turn their visions into reality. Born and raised in Buffalo, Chris is a UB business school graduate. He enjoys spending his free time with his two children Olivia and Rhys.

Tom Rauker

TOM@BIGLWINDOWS.COM
716-362-2461

Tom has been in the WNY fenestration industry since 1985, winning several local and national sales and customer service awards. He prides himself in offering concierge-style service for your window & door projects, large and small.

Jay Rizzo

jrizzo@biglwindows.com
716-362-2460

Jay's Grandmother Marge Braun was an original member of the company when it started in 1975. She got him started at Big L working in the warehouse for his first summer job back in the early 2000's. After many years in the food service industry, he returned to Big L to help with customer service. Today you can find Jay in the showroom answering customers questions and scheduling sales appointments. When not in the showroom Jay enjoys spending time with his daughter Caylin and watching superhero movies and tv shows.

James Tronolone

JTRONOLONE@BIGLWINDOWS.COM
716-362-2465

James joined the industry in 2011 and has been with Big L since June of 2015. In 2016, he moved into a full time outside-sales consultant role. Born and raised in buffalo and a graduate of Canisius high school, James is a former college baseball player, having pitched for Niagara County Community College and is naturally an avid sports fan.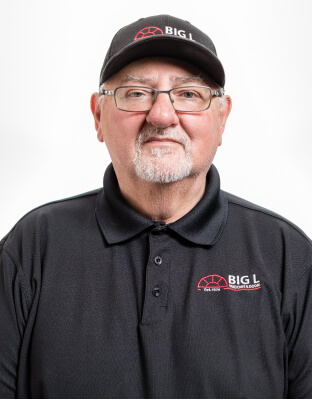 Steve Zwolinkiewicz
STEVEZ@biglwindows.com
716-362-2459
Steve joined Big L in April of 1981 as an assistant in the warehouse. Soon thereafter he assumed responsibility for the cash and carry counter where he acquired a great deal of product knowledge and worked with numerous contractors and tradesmen. After a few years, Steve took an open position in contractor sales and proved to be an excellent resource for Big L's trade customers. Steve's 40 years of experience in the business, all with Big L, continues to prove to be of extraordinary value to both Big L and the customers he serves. Steve is a Buffalo native and has been married for 46 years. He has two children and two wonderful grandchildren.